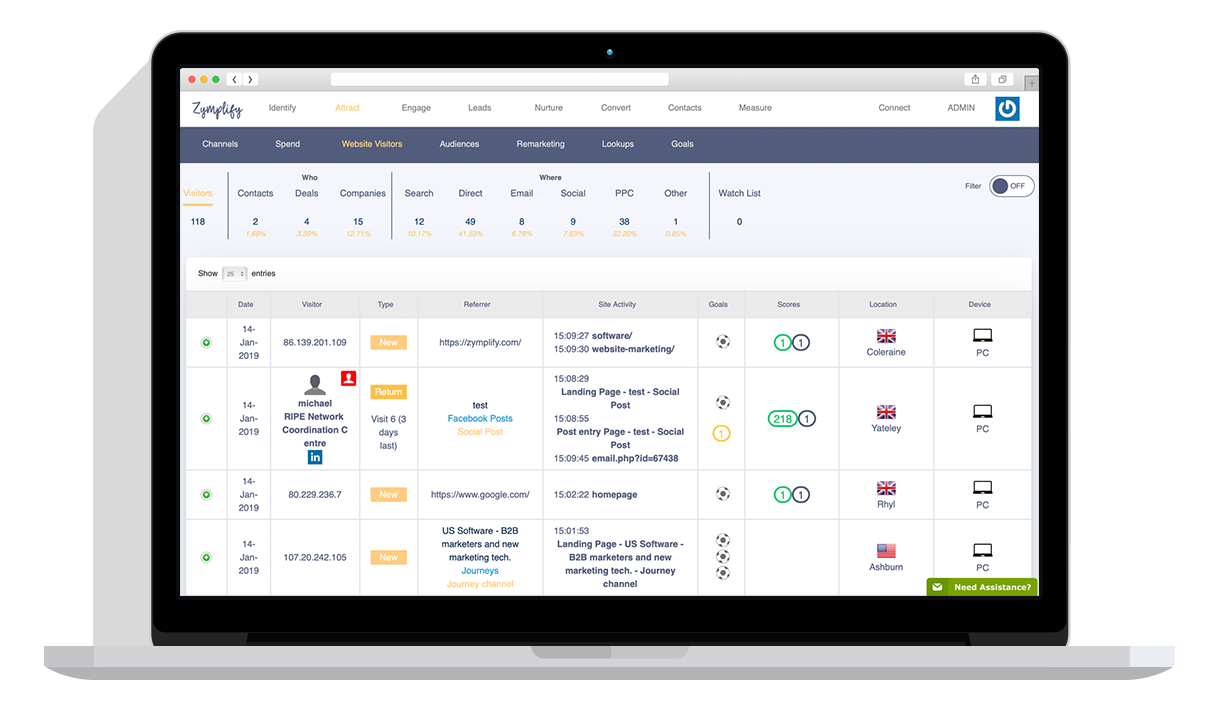 Turn your Website into a Lead Magnet
By integrating our website tracking script with your website, you get an in-depth view into how effective your website is performing. Identify WHO is coming to your site, and what pages they are interested in and whether they are achieving any goals set on your site.

See how many people are coming to your website every day, as well as breaking it down on an individual basis. With our website tracking, you will be able to see whether they are new or returning visitors, the number of pages they have viewed and a breakdown of the actual pages they visited. What's more, you'll be able to see what device they used to view it on and their geographical location to get a full view of your website visitors.

If you have an existing webpage that you wish to share in your campaigns such as in an email campaign or landing page. You can drive traffic to any of these external pages with a fully trackable Zym link and measure its success in real-time. The Zym Link takes your existing URL and converts it into a short trackable link. This can then be shared and the results recorded and displayed on the Zymplify Platform.

Using the Zymplify dashboard you can build customisable web forms that convert, all launched within a minute and with no coding required, because creating web forms should be easy! Stay focused on the important stuff and let the platform take care of the rest, like making sure your web forms are optimised for performance, flexibility, and security. You can use the dashboard to view a detailed breakdown of all leads from web forms, such as trends, leads and measure your web form campaigns.

Pop-ups are forms of online advertising that can be fantastic way to generate leads from your website. With the help of Zymplify's platform, you can quickly and easily build pop-ups to display on particular pages, to various visitors or at different times. Using the dashboard you can also view a detailed breakdown of all leads from pop-ups, such as trends, leads and measure all your pop-up campaigns.

Using the Zymplify platform you can use our live chat feature to connect with real-time visitors to your website. Engage with your visitors and send customised messages to increase sales and give amazing customer support – all with live insights for you to analyse such as trends, leads and all your live chat campaigns.

Chatbots are the solution to all your customer support issues, as well as a way to generate leads using this fun automated service. Using the dashboard you can instantly respond to questions, reduce your customer support overhead, and be available 24 hours a day, 7 days a week, 365 days a year.

Google Analytics Integration
By integrating your website with the dashboard, you can see the high-level statistics of your website activity and get access to more detailed breakdowns. The dashboard pulls in data from your Google Analytics account, so all your activity can be measured in one place. By adding Zymplify's unique visitor tracking code to your website you will be able to see much more detail from website visitors such as specific page visitors, referrer and their IP or contact profile if they are in your database. From here you'll also be able to add them to your sales pipeline and view their website goals and scores. The filter option will also allow you to drill down on specific visitors based on time, devices, visits, location. You can also create, edit and monitor your website-based goals such as duration, page visits and event goals.